March 11, 2019
By David Keene
In a conference known for so many sessions, panels, showcases, and demos of tech innovation that it's easy to get distracted by many things that glitter, for this analyst the SXSW Pitch event offers one of the best formats of the week+ at SXSW – if you're impatient for gold. In tech markets where the word "curated" is highly overused, the SXSW Pitch event does indeed bring together some of the best technology curators out there with some of the most innovative new tech companies emerging in AR & VR, Sports, Transportation AI, Entertainment, and more.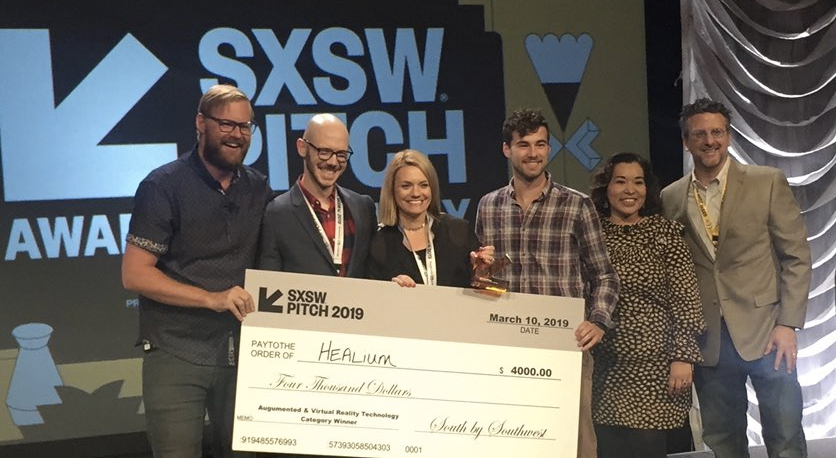 SXSW Pitch is a platform to allow early stage technology startups to pitch their product and/or services to industry technology experts, high profiled media personnel, and Venture Capitalists and Angel Investors. The 11th annual SXSW Pitch event (formerly called the Accelerator), took place March 9-10 during the Entrepreneurship & Startup Track at the Downtown Hilton in Austin. SXSW announced the winners of this year's SXSW Pitch event on March 10th. In addition to a winner chosen from each of the 10 categories, one finalist also took home the overall "Best In Show" distinction.
The category winners of the 2019 SXSW Pitch event are:
Artificial Intelligence: Derq
Augmented and Virtual Reality: Healium by StoryUP
Blockchain: Nebula Genomics
Enterprise and Smart Data: Geospiza
Entertainment and Content: Tankee
Health and Wearables: Pathware
Hyper-Connected Communities: UbiQD
Social and Culture: Supportiv
Sports and Performance: Miro
Transportation & Delivery: ENSO Tyres
"This year's event featured startups in new categories like artificial intelligence and blockchain, which turned out to be two of the most popular sessions," said SXSW Pitch Event Producer Chris Valentine. "Startups within the blockchain category tackled innovation in the fertility industry and supply chains, while AI startups focused on things like assisting in transcribing notes and predicting car crashes," Valentine said. "It was interesting to see startups in those categories shed light on other ways this technology can benefit society rather than falling back on buzzwords like crypto and AI chatbots."
The best part of the program, for SXSW attendees, is that it's centered not around a traditional "Awards" ceremony but on real pitches. Actual company pitches, live, open to all SXSW Interactive attendees, with a rapid-pace, in-person pitch from the innovators themselves. No PR hype beyond a mic and a stage, no reliance on digital magic other than your deck. Show us what you do. Tell us where it's worked, and tell us why it matters. One of the category Pitches that I attended Saturday, March 9th at the Hilton Hotel saw the five companies that were in competition in the category "Augmented and Virtual Reality Technology," pitching the judges with their ideas, innovations, products and/or services. The winning pitch in that category came from Healium by StoryUP, according to the company "the world's first XR mindfulness channel powered by the user's brain and heart rate. The biometrically controlled VR & AR stories heal themselves via data from the user's wearables. In published studies, Healium has been shown to reduce moderate anxiety in as little as 4 minutes."
Healium's CEO Sarah Hill told a convincing story, in her pitch, of how the solution has been shown in practice to be effective, in hospital settings with nurses taking a break from a stressful shift, in therapy settings, and more, and explaining how Healium is a biometrically-controlled, drugless solution for "stress – a $300 billion profit and people killer" in the U.S.
SXSW Pitch 2019 also crowned its "Best In Show" winner, Nebula Genomics. Special awards were also presented for "Best Bootstrap" (TwentyTables) and "Best Speed Pitch" (Xplosion Tech).
"A startup that proved to be very impressive on stage was TwentyTables." commented Chris Valentine. "They did a great job at highlighting the importance of the underserved having access to healthy food options by offering customers affordable, fixed-cost meals. Startups with social good components showcase just how impactful technology can be when it comes to making a real difference."
Each of the 10 winners received $4,000, two badges for next year's SXSW conference, a trophy, and most importantly, exceptional exposure to SXSW attendees and potential investors.
According to SXSW, "strong trends showcased at this year's event included game-changing AV/VR, blockchain and AI technology designed to enact change in industries like healthcare, sports and entertainment. The competition also drew a number of global companies, with over 30 percent representing countries outside the U.S., including the UAE, U.K., Singapore, Mexico, Germany, Canada, South Korea, Pakistan, Hong Kong, Japan, Cyprus, Sweden and Slovenia."
"We've already had our eyes fixed on the upcoming 2020 Pitch event, and the ways smart cities are impacted by innovative tech – from biotech to quantum computing – is something we are looking into," Valentine said. "We always want to be mindful of what is already evolving in the global startup ecosystem, so we're thinking of ways to build off of tech innovations that are becoming increasingly relevant to include in our competition."
For a complete list of the 2019 SXSW Pitch finalists, including alternates, and a list of the Pitch event judges, see:
https://www.sxsw.com/awards/sxsw-pitch/#2019-finalists
Market Trends – Gensler Spotlight
Sign up at the right to get industry analysis, curated data, and information (you can actually use) from the digiDaybook Newsletter.